SWEET MELODY MUSIC STUDIO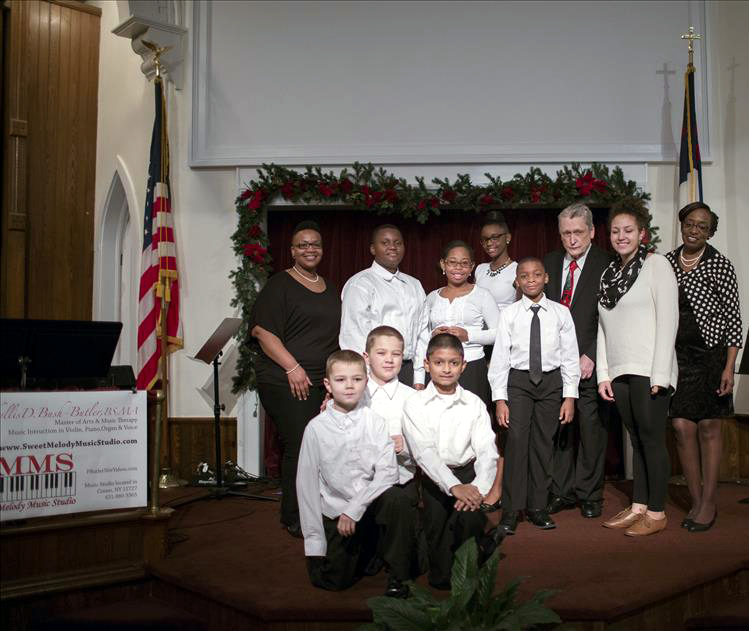 Sweet Melody is a private music studio founded, owned and operated by Phyllis Bush-Butler.
It offers music lessons to children as young as four and adults.
There is no adult age limit. Sweet Melody Music Studio currently a home-based business. Music is taught on acoustic pianos, baby grand piano, an upright piano and electric keyboard. Sweet Melody Music Studio also offers services in violin, viola, cello, organ and voice.
The teaching curriculum is based on New York Music Standards in Music Education. Students are taught rhythm, music notation, reading the treble and bass clefs, the notes on the keyboard and reading music fluently.
Sweet Melody Music Studio teaches genres in Classical music, Jazz, Contemporary Music, Modern Music and Gospel Music. Students learn to improvise, create their own songs, and arrange songs.
Lessons are once a week for thirty, forty-five or one hour sessions. Sessions are personal and one on one. Students are taught on a schedule that is comfortable for them. They set the learning pace.
Sweet Melody also offers services in Music Therapy. Music Therapy is using music as a therapeutic intervention to improve all facets of physical, emotional, mental, social, aesthetic and spiritual being. It has been successfully used with Physically and Mentally challenged individuals. Students who are Autistic, Learning disabled, Emotionally challenged, suffer from Dementia or Alzheimers are all welcome.
Our services also include training students to become Church Musicians. Directing and training choirs, backing up the preacher and learning Gospel chording.
We are comunity and service driven. Students are encouraged to participate in school based music programs and music festivals, NYSSMA, church events, and to give back to the community through performances at local nursing homes and other such venues.
Our teaching schedule is flexible. We will teach around a students schedule. The studio is child and parent friendly. Sweet Melody Music Studio is a safe environment where children are comfortable and love to learn.
Tell Me More...
-- Sweet Melody Music Studio offers piano, violin, viola, voice, and organ instruction.
-- We provide Music Therapy Programs serving students with disabilities and Special Needs.
-- We conduct Music Therapy Assessment Profile Evaluations.
-- We implement and follow New York State Music Curriculum and Standards in Music
-- We organize and plan music recitals for our students.
-- We prepare school age studenrts for NYSSMA festivals.
-- We are NYSSMA String Adudicators and NYSSMA piano accompanists.
-- We offer an online, customized teaching tool for piano lab management.
-- We develop and coordinate community outreach programs.
-- We are an active member of the American Orff-Schulwerk Association.
-- We are a Commerical Business Member of SCMEA.
-- We offer a Community Service Incentive for students.
-- We are Carnegie Hall Summer Music Educators Workshop Attendees.
Click Here
for more information about Sweet Melody Music Studio.